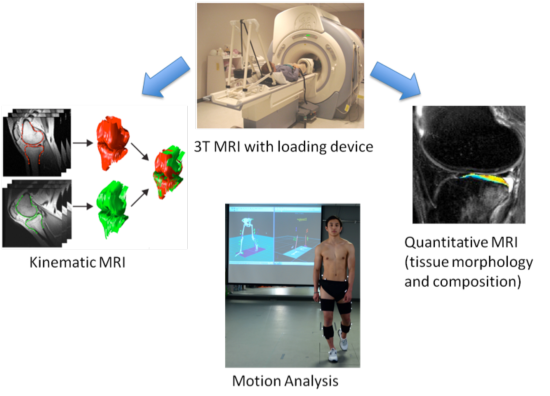 Background
Anterior Cruciate Ligament (ACL) injuries are one of the most common and severe ligament injuries of the knee.
Although ACL reconstruction enables patients to return to active lifestyles, previous long-term studies have demonstrated that 10 to 15 years after surgery, on average, 50% of these patients have documented radiological changes of OA.
With the increasing number of ACL injuries in the adolescent population, we are poised to have an epidemic of young adults with post-traumatic OA and loss of function within the next decade.
To date, objective evaluations of ACL injured and reconstructed knees include laxity measurements, muscle strength, and plain radiographic images. This information is useful, but it cannot identify subtle changes in knee kinematics and degeneration.
There is a profound need for early detection of biochemical and biomechanical abnormalities in ACL injured and reconstructed knees.
The ability to diagnose early degeneration will enable early intervention and provide guidance and critical evaluation for new surgical or pharmacological therapies.
Aims
To evaluate ACL injured and reconstructed knees by integrating quantitative measurements of tissue composition, joint function, and entire limb function.
To study individuals with acute ACL injuries at baseline (within 2-4 weeks post injury and prior to ACL reconstruction), 6-months, 1-year, and 3-years post-ACL reconstruction. Age, gender, and BMI-matched healthy controls will be studied at baseline, 1-year, and 3-years. And, both knees will be studied in both groups.
To investigate the interaction between biochemical and biomechanical abnormalities of ACL injured and reconstructed knees utilizing our extensive experience in quantitative and kinematic MRI, and the new availability of gait analysis provided within the Human Performance and Functional Testing Core.
Significance and Translational Aspect
A better understanding of this interaction is critical in understanding the disease mechanism of post-traumatic OA development in injured joints. Correlation between quantitative MRI and gait analysis will facilitate translating the advanced imaging techniques into clinical applications that will ultimately improve patient management.